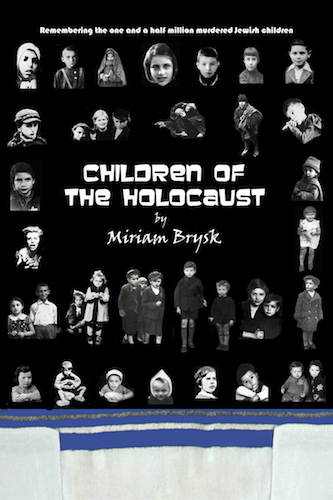 Children of the Holocaust
Kiev-Babi Yar (Ukraine)
In September 1941, 33,000 Jews from Kiev, including the girl shown in the center, were taken to a ravine at Babi Yar and shot in just 2 days.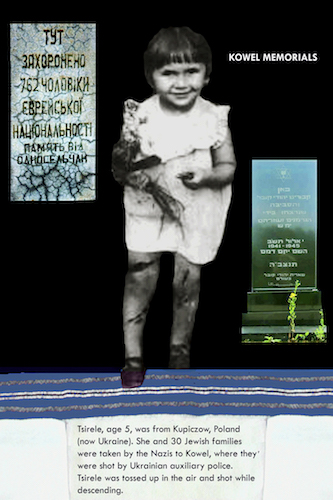 Kupiczow – Kowel (Poland, now Ukraine)
Tsirele, age 5, was from a village in Poland. Together with the other Jews from there, she was taken to Kowel and shot by the Ukrainian auxiliary police. Tsirele was tossed up in the air and shot while falling.
Riga – Rumbala Forest (Latvia)
In late 1941, Riga's 30,000 Jews were taken from the ghetto to the Rumbala forest and shot. Chana was among 1,000 Jews from Germany also murdered there.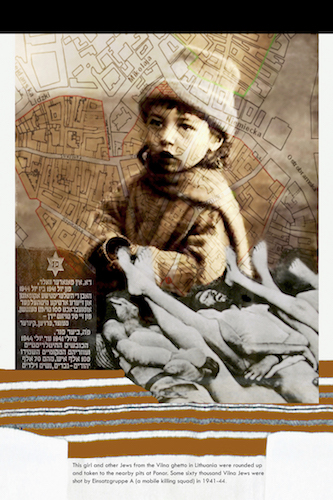 Vilna-Ponar (Lithuania)
Two Jewish ghettos were established in Vilna, for those able to work and the useless. Jew from the latter, (probably also this girl), were shot into pits at Ponar by a Nazi mobile killing squad. shown is a map of the Vilna ghetto as well as the bodies of Jews shot in Ponar.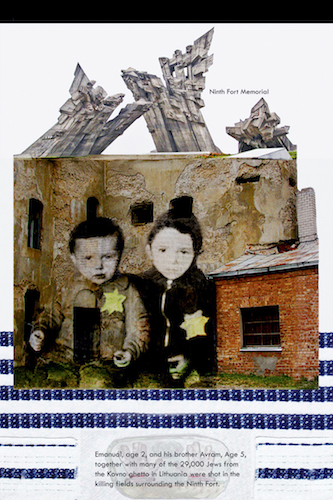 Kovno – Ninth Fort (Lithuania)
Jews from Kovno were shot at one of the nearby forts. In a single day 9,200 were killed. Emmanuel age 2, and his brother Avram, age 5, are likely to have been killed at that time.
Minsk (Belorussia)
At 12, Gershon was the youngest fighter in the ghetto, he was arrested and killed. Isaac at 16 escaped and joined the Russian partisans in the forest. He was killed while blowing up a German train. The Nazis publicly hung captured Jewish partisans. One such fighter was Masha Bruskina, about to be hung.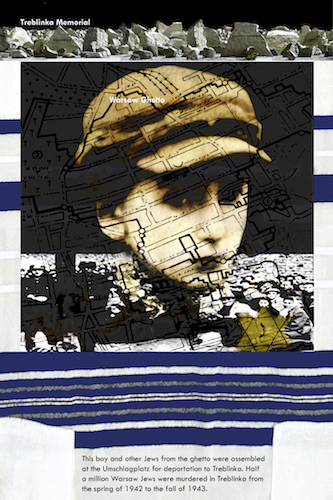 Warsaw – Treblinka (Poland) 1
The Warsaw ghetto housed 500,000 Jews; 5000 died daily from hunger and disease. Massive deportations to Treblinka (7,000 per day) began in July 1942, among them was this boy.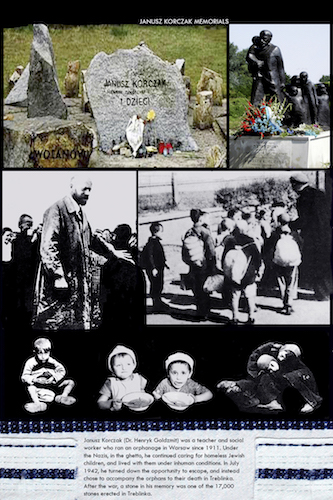 Warsaw – Treblinka (Poland) 2
Dr. Janusz Korczak cared for the orphans in the ghetto. He turned down an opportunity to escape and chose to accompany his children to their deaths in Treblinka. After the war, a stone was erected in his memory in Treblinka.
Kielce – Treblinka (Poland)
The Kielce ghetto housed 27,00 Jews, including those brought in from Vienna. Shown are scenes of children in the ghetto. The Jews were deported to Treblinka.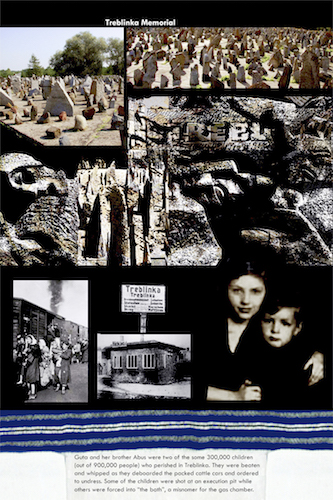 Treblinka (Poland)
900,000 Jews were killed in Treblinka. Arrivals wereforced to undress, then, hands in the air they were packed into the baths (gas chambers). Small children were thrown on top of the adults. Stone memorials were erected after the war.
Lodz – Chelmno (Poland)
The 240,000 Jews in the Lodz ghetto were ordered to surrender their children under age 10, as they did not contribute to the war effort. Thousands of children were torn from the arms of desperate parents and deported to die in the gassing vans of the Chelmno extermination camp.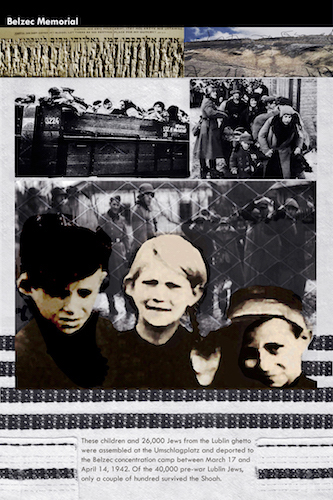 Lublin – Belzec (Poland)
In March 1942, these children and 24,000 Jews were deported to Belzec, where 600, 000 Jews were murdered.
Lwow – Belzec (Poland)
The 120,000 Jews in the Lwow ghetto were subjected to extreme cruelty. Shown is a girl after a rape. Most were deported to Belzec.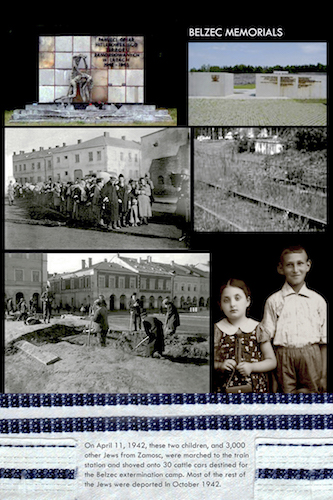 Zamosc – Belzec (Poland)
In 1942, these two children and 3,000 other Jews from the Zamosc ghetto were deported to Belzec.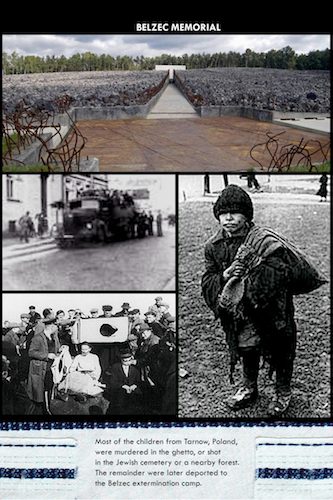 Tarnow – Belzec (Poland)
Some of the children from Tarnow were killed in the ghetto while others were shot at a nearby cemetery. 40,000 Jews from Tarnow were deported to Belzec.
Cracow – Plaszow (Poland)
In 1943, Tolek, his brother Fred and their parents were taken from the Cracow ghetto and sent to Plaszow, a slave labor camp described in Shindler's List. Fred was sent to a camp in Germany and survived; Tolek was deported to Auschwitz.
Sosnowiec – Auschwitz (Poland)
Leo and his parents together with 28,000 Jews were in the ghetto, where his father was killed. He and his mother were deported to Auschwitz. His little sister Miriam was adopted by a Polish family and survived.
Bialystok – Auschwitz (Poland)
The Bialystok ghetto housed 60,000 Jews. After a brave ghetto uprising, the Jews were deported to several camps. 1,000 Jewish children were sent to Theresienstadt, then to Auschwitz.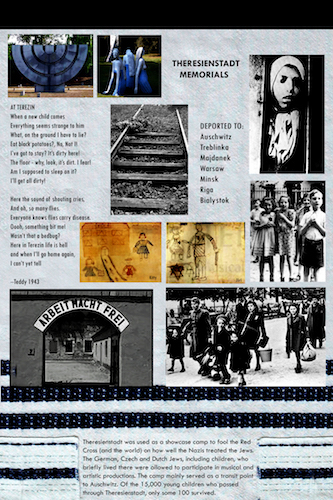 Theresienstadt (Czechoslovakia)
Theresienstadt, a model camp for German, Czech and Dutch Jews that was used to fool the Red Cross (and the world) as to how well the Jews were being treated. Inmates were allowed to participate in cultural activities. The camp served as a transit point to Auschwitz. Of the 15,000 children who passed through the camp, only some 100 survived.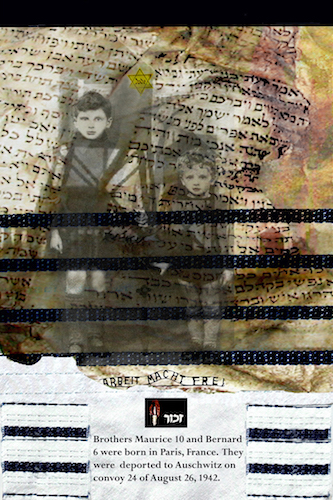 Paris (France) – Auschwitz (Poland)
Some 11,000 Jewish children were arrested in France and sent to transit camps. Children were separated from their parents then deported to Auschwitz. Brothers Maurice and Bernard, ages 10 and 6, were sent on convoy 24.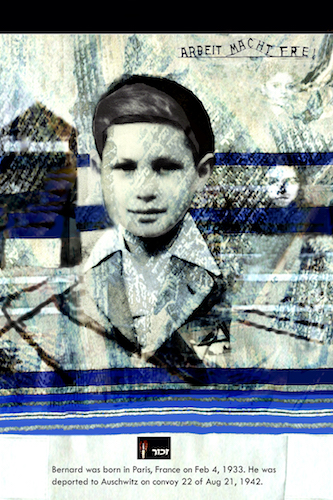 Paris (France) – Auschwitz (Poland)
Bernard, born in France in 1933, was deported to Auschwitz on convoy 22. Only some 300, of the thousands of the deported Jewish French children, survived.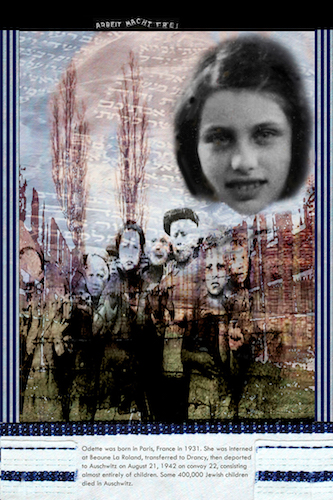 Paris (France) – Auschwitz (Poland)
Odette was separated from her parents, transferred to Drancy (a transit camp) then deported to Auschwitz on convoy 22, made up almost entirely of children.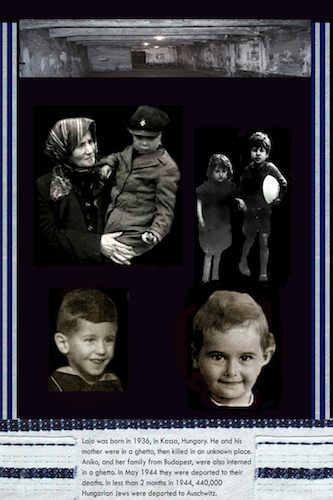 Budapest (Hungary) – Auschwitz (Poland)
Lojo and Aniko were deported to Auschwitz in May 1944. 440,000 Hungarian Jews were killed in Auschwitz over the course of just two months.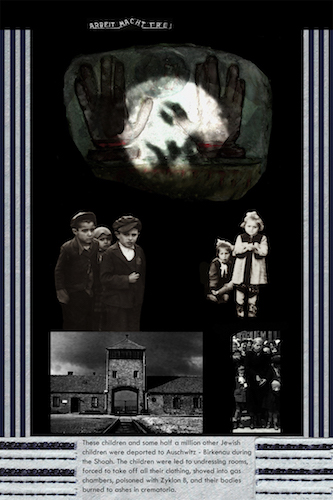 Auschwitz – Birkenau (Poland)
Birkenau (Auschwitz 2) was erected as an extermination camp for Jews. The Hungarian children shown were killed in Birkenau.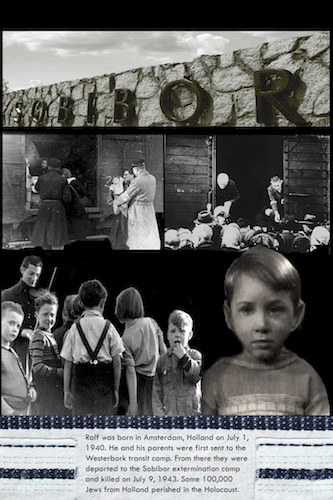 Amsterdam (Holland) – Sobibor (Poland)
Ralf was born in 1940. His family and most of the other Dutch Jews were first sent to Westerbork, a transit camp. Ralf and his family were deported to the Sobibor extermination camp.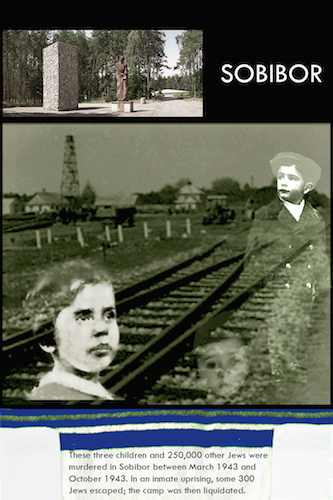 Sobibor (Poland)
250,000 Jews were murdered in Sobibor. Pictured are the railroad tracks leading into the camp and 3 of the children who perished there.
Holocaust Art Galleries: